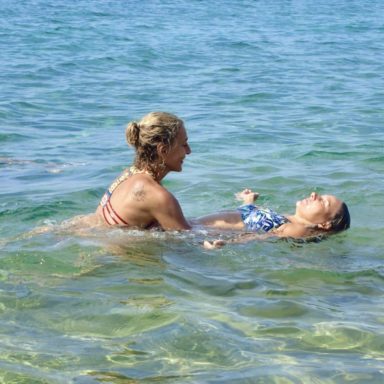 Apostolia
Water Rebirthing

A very deep healing work that releases unexpressed emotions or traumas stored in the body cells and liberates us from life patterns that make us unhappy, and unfulfilled.
Every physical pain has an emotional story behind it and vice versa. Some of the issues we usually deal with are Self Love, Forgiveness, Confidence, Authenticity, Relationships, Ancestral Lineage Burdens, Utilizing our talents, Belonging, Unburdening old emotions, and Energizing body and mind.
Water Rebirthing is cleansing our womb traumas and limiting beliefs.
It brings joy, freedom, and renewed energy, and expands our consciousness to infinite possibilities for the life we want to create.
It is a therapy that works with the absence of gravity, the liquid space of the womb, and awakens in the cells of our body the remembrance of unconditional love.
The session last 60 min (beach + sea) It is also ideal for couples that want to experience deep bonding and intimacy.

About
Apostolia is an internationally acclaimed choreographer, performer, and Embodied Spirituality Mentor. She is a master's teacher in Contemporary Dance, Contact Improvisation, Yoga, Alexander Technique, and Water Healing and Rebirthing.
She has choreographed Drops of Breath, the 1st underwater dance performance in the world with an underwater audience, and she also creates ritual performances in sacred ancient sites in Greece.
A lover of healing arts and ancient wisdom, Apostolia also studied Shamanism, Music, Voice, Rei-Ki, and systemic constellation, empowering many people in many lands. Her highest intention is to keep opening the eyes of the soul and tuning into the frequency of Love no matter how life challenges her. She has been teaching water healing and rebirthing in the water for the last 12 years, in various public and private events.


Preparation
Paper and pen, swimsuit, towel, a bottle of water, and a hat, come with a light stomach.