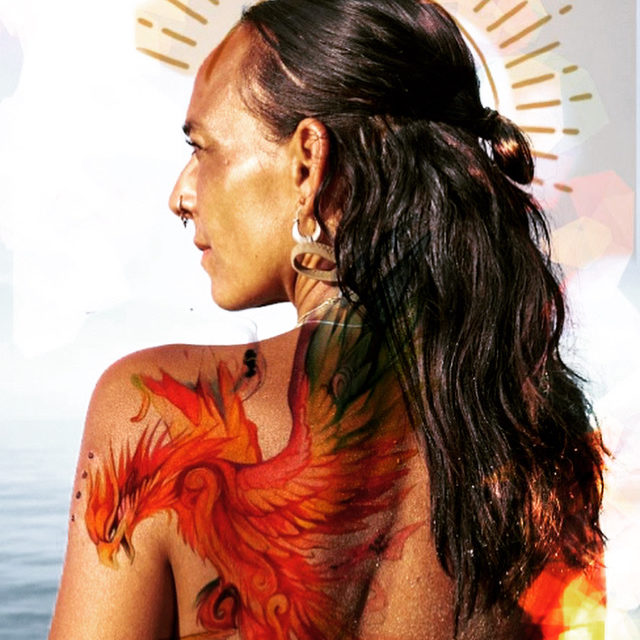 Dunja
Reikihealing and Oraclecard Reading
Reikihealing
Reiki literally means "spiritual energy ". Rei means spirit and ki means energy. Reiki is in essence YOU – your inner light and the purest expression of your essence and self. It is based in an Eastern medicine belief that living beings have energy fields that support their health and vitality. Energy blocks in the other hand impede innate flow of energy, causing not only health problems, but also negative life circumstances like financial troubles or relationship problems, according to belief. Reiki helps us to let go of anger, worry, fear and stress
to uncover our best self-one, that is peaceful, grateful, compassionate and in harmony with others. As a Reiki practioner I focus on sensing energy blocks and move the energy for the greatest good of the client. I am able to channel this energy through my hands. Reiki works by balancing and unblocking the body's own energy centers and pathways and in turn this supports the body's ability to heal itself. Reiki relaxes and releases tension from the body. While a session you enter a deep meditative state that helps to restore the nervous system. The healing energy of Reiki knows exactly where to go and what to do. What many people love the most about Reiki is, that it allows them to simply "be". It is a time of pure relaxation where the receiver can clear their heads and release tension and stress. A treatment feels like a wonderful glowing radiance that flows through and around you. We are all unique in our healing,
so how we receive it, becomes a part of that uniqueness. No one has exact the same experience and that's part of the magic.
A session can last between 30 and 60 minutes.
At your first appointment we will meet,
you'll get a short introduction about the process
and we talk about your expectations
Oraclecard Reading
In this session we are looking for deep insights in certain areas of your life. Let your soul guide you through oracle cards.
They can show any imagery, and there is more room for you for interpretation.
It's a great way to get enlightened about your limiting beliefs and to learn what is holding you back from moving forward in your life.
Reach out, if your soul needs to be guided. You will receive guidance and the tools you need to move forward.

About

For most of my life I have dealt with the topic of healing. After studying special education, I worked for 20 years with mentally ill, traumatised, mentally and physically handicapped children and young people. I have always been interested in magical things and music in any form. However, all of this was forgotten during my college years, working as a special education teacher, and raising my 3 wonderful daughters. It was only when my children were older that I began to concern myself more with myself, my past, deep-seated beliefs, shadow issues, my own behaviour patterns and emotional injuries. I became aware that we are all connected, people never just meet by chance,
that there are souls, energies, beings and spiritual guides who accompany, guide and protect us in our lives. So I embarked on my healing path and it was no coincidence that I came into contact with Reiki
and my current Reiki master Nina Kim, Visionary Reiki school Berlin, for the first time 6 years ago,
at a time when I was not doing well emotionally.
After attending several sessions with her over a long period of time, I completed my 1st and 2nd Reiki degrees with her. I was able to experience how Reiki energy contributed to my own healing
from emotional injuries and dark sides.
Energy work still supports me on my ongoing healing path. This was followed by training in sound therapy. Music and sound have interested me since I was a little one and I am happy that I can now combine sound and healing. I would like to support you to go your own way,
to show the potential of change and thus help you to find more lightness and joy of life by learning to live from your true self and accompanying you on your journey of healing and energizing.

Preparation 
Please bring a big towel and something to drink.