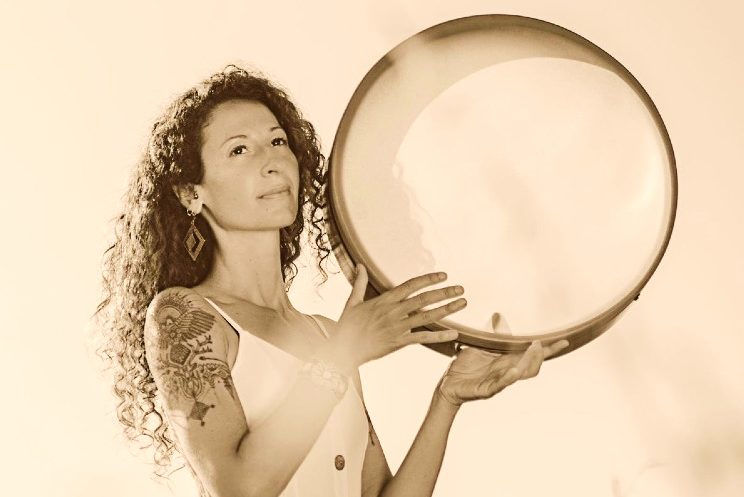 POLIANA DIMITROPOULOU
Shamanic Drum Journey*
Special guest: Assimina Kouris
Shamanic Drumming was used from the ancient times to balance the frequencies of the two hemispheres of our brain and induce a range of trance states of perception, in order to connect with the spiritual dimension of the self and reality. Guided by the sound of the drum and Poliana's voice we will travel into those inner territories. The intention of our journey is the encountering with our inner Fire – in ancient greek mythology was represented by Goddess Estia (in Romans Vesta) who represents archetypically and psychologically the most basic part of the self: our Core, Our Life Force, the Center where all our pieces come together in Unity. When we keep this fire lit, awaken and activated, we are connected with our true self, natural powers, integrity, creativity and joy!

To end our journey and start our day we will have a special guest, the greek medicine song singer Assimina Kouris that will share her angel voice to fill our hearts with sweet greek melodies!
About
Poliana comes from Greece. She graduated the University of Arts, various healing modalities and workshop facilitation. The last 14 years her work is focused on ritual healing arts, meditation, ceremonies and creative expression. As a world traveler she has studied and practiced modern methods but also ancient knowledge from Greece, India, Mexico and United states while living with indigenous tribes. She has been working with individuals and groups all over the world. She is the creator of RHEA Temple – Ritual Healing Arts, which is focused also on the Greek mystic traditions and is a harmonious combination of the above tools that offer a holistic mind/body /soul experience which invokes self awareness, liberation and reconnection to the source.
This offering is directed to all men, women and children over 13 years old who would like to participate in this journey of remembrance and empowerment through the heartbeat of the drum. Since we are going to be laying down most of the time, please bring comfortable clothes, your mattress, a small pillow if you need for your head, some cloth to cover if you are cold and your water bottle.